Welcome to our guide to living in an RV full-time Many people consider purchasing an RV because they may have the dream to travel the country but don't have the money to do so with expensive plane tickets and hotel rooms. With with an RV motorhome you can live anywhere you want and even save money while you do so, chasing your dreams and living a full life. If you're looking to get out of your comfort zone and living full time in an RV sounds like something for you, here is our guide to tell you how to do it.
Why Live in an RV Full Time?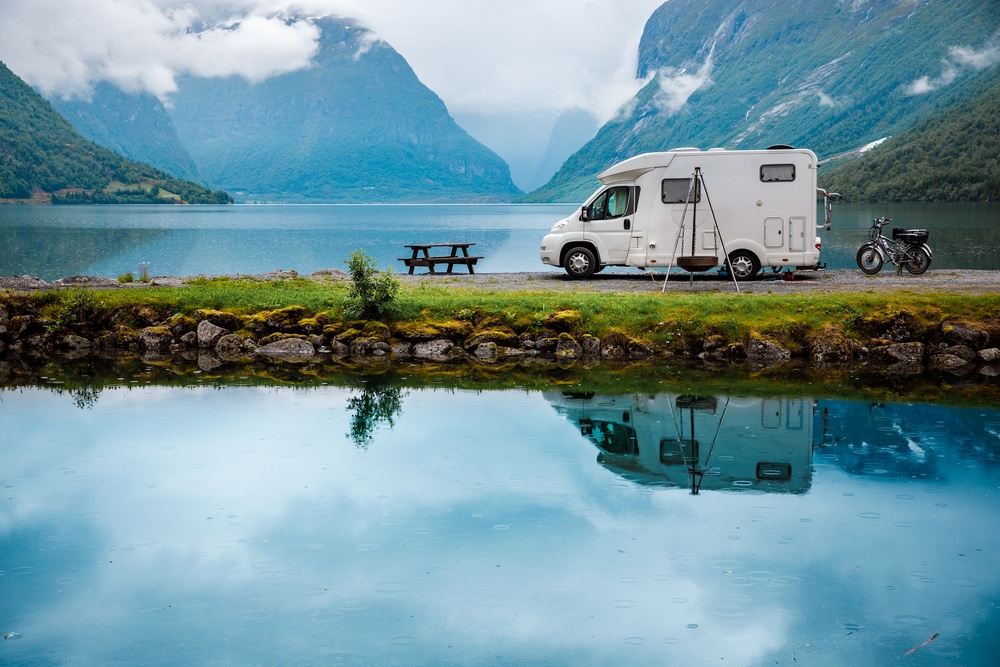 Around 1 million people in America have decided to ditch the traditional route of living in a nice home in the suburbs, choosing instead to becoming a full time RVer living in a motorhome or travel trailer. Many of the people who have made this decision have said that it actually made them happier. Some people may question how this is possible, as a motorhome or travel trailer has less space than a traditional home. So let's talk about how this is possible.
Living in a RV motorhome or travel trailer allows you to travel across the country (or even between the borders of countries) to wherever you desire to go. A bonus to this way of life is that you get to experience a variety of breathtaking views right outside your window every morning that you wouldn't see while living in a city.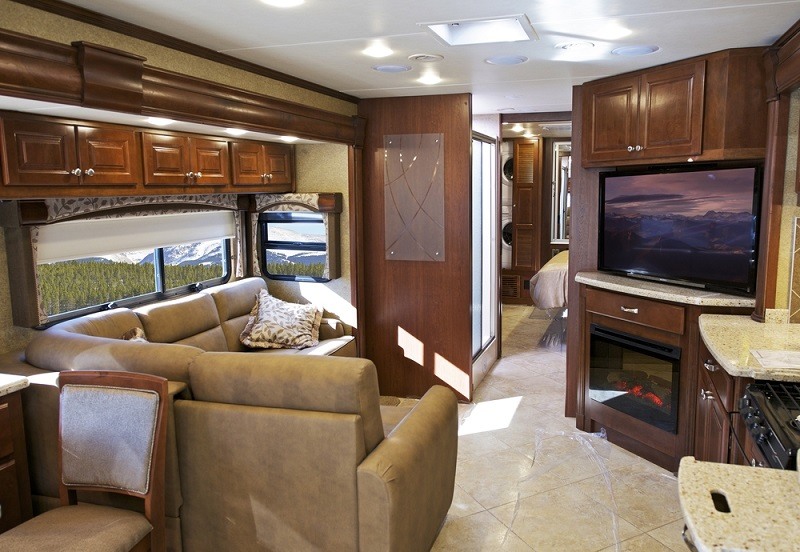 For many people living in a RV will save thousands of dollars on bills. You don't have to be stressed about mortgage payments or paying high monthly rent in a residential zone. Utility bills are not much of a hassle either, and sometimes non-existent if you have solar panels and live off-grid. Just imagine all of the money you will save while being able to travel the country without needing to purchase plane tickets or hotel rooms.
For a personal experience the author of this post saved a ton of money while living in Los Angeles in this Class B camper van conversion, stealth parking by a neighborhood park. It cost just a few hundred dollars a month of living expenses; a $20 a month gym membership to Planet Fitness for showering / workouts and food expenses eating out at Subway. With solar panels equipped the RV was the perfect boondocking vehicle for living in a city.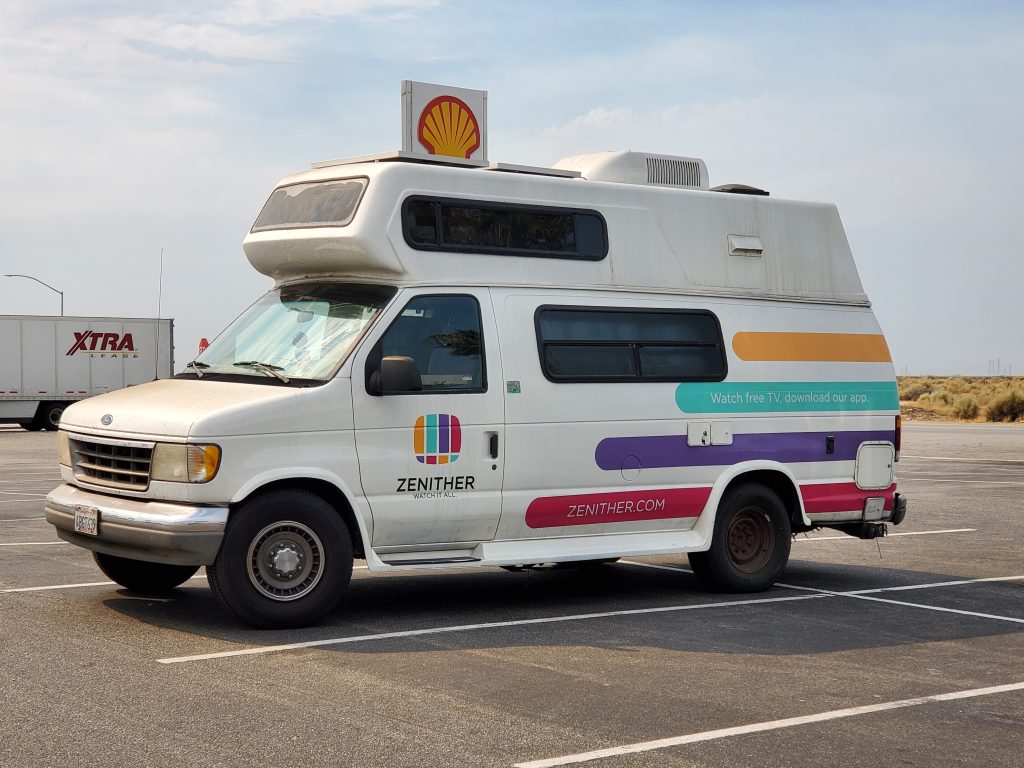 As a full time RVer you'll discover this is a very flexible lifestyle; while living in a RV you can travel full time and work full time if you wish. Nowadays there exist many remote job opportunities for working and making good money, and the number of these opportunities are growing exponentially as technology expands. You can even start your own business. This is especially the case in our now changed post-Covid epidemic world; because their offices had to close many large corporations now offer remote work job positions that pay very well. This has given more people the freedom to live full time in an RV to save money and travel before they are anywhere near retirement age.
There are hundreds of other reasons why you should consider living a full time RV lifestyle, and one of these reasons may have brought you to our guide. All of these reasons are valid.
The Cost of Full Time RVer Living
Alright, let's get the big question out of the way – How much will it cost to live as a full time RVer in a motorhome or travel trailer? Well, living in an RV is actually not an expensive option compared to renting an apartment or owning a home. Obviously, the lifestyle you choose to live will determine how much your living expenses will be no matter where you live; some people desire more luxurious living than others, choosing to follow the glamping lifestyle.
Overall, from gas to food, phone bills, insurance, park rent, and of course purchasing the RV itself, you can save a lot of money by living in an RV full-time. Judging by research and our own experiences the average cost of living the RV lifestyle full-time totals to about $2,000 a month or less. This estimate includes all expenses. $2,000 is a huge reduction of bills as in most cities a person will pay combined rent and utilities of about $2,500 to $4,500 a month. But by moving into a smaller place and living in an RV full-time you should be saving at least $1,000 a month.
As said earlier, the author of this guide has lived even cheaper than this; by boondocking in a solar panel equipped camper conversion van you can live on just a few hundred dollars per month. The author of this blog did this as he was spending most of his income growing another business, so living frugally was necessary. This required the author to be willing to forgo many luxuries such as eating out at fancy places and driving a lot, but the point here is that it's entirely achievable to find good free places to park that are near gyms you can shower at, even in a city like Los Angeles.
If we break down the cost of RV living full time into detail, the expenses should be separated into fixed costs (which are expenses that occur every month) and variable costs (expenses that depend on your regular activities).
Here are some examples of both types of expenses,
List of Full Time RV Living Fixed Expenses
Household/Food Items
Vehicle Insurance
Laundry
Phone/Mail
Vehicle Registration
Health Insurance
Personal care
RV Sewage Dump Site Usage (at certain truck stops and camp sites)
List of Full Time RV Living Variable Expenses
Maintenance/Repair/Upgrades
Restaurants
Entertainment
Clothes
Memberships
Camping/Overnight costs
Hobbies
Test the Full Time RVer Lifestyle Before You Commit
A full time RVer lifestyle is not for everyone. With the many advantages of the RV lifestyle also comes some disadvantages. You have limited storage space, you have to drain your sewage tanks and you'll also need to learn some electrical and plumbing skills if you are not able to afford to pay for mobile service RV repair costs. There are also important factors to consider such as your age, health, and family situations; these factors can also weigh a heavy influence on your final decision of whether RV living is right for you.
If you would prefer to take a test drive of the lifestyle before you make the big commitment to become a full time RVer, you can try renting an RV for a short vacation of a week or two. This option can be easy and less expensive than purchasing an RV, depending on the RV you decide to rent.
Before committing to this lifestyle there are some important things you need to understand and consider, so let's go over those factors. As we mentioned in the previous sections of this guide, becoming a full time RVer can save you a great deal of money, but accidents can happen that can be pretty costly, too. Whether it is a mechanical repair or some exterior damage repair to your RV that is needed, if you do not know how to fix this problem on your own hiring a mechanic can cost you hundreds of dollars. So if you decide to make an RV purchase you should make sure your RV is in great shape, has good warranties and good insurance.
Other Things to Consider with Living Full Time in an RV:
Millions of people choose to live in a RV full time and love it, but it is important to address the possible things that can lead to you being unhappy in this lifestyle.
You need to be in good health to live in an RV. If you have difficulty moving or need to be near a hospital to see a primary care doctor, this just isn't a good lifestyle for you.
RVs will lose value over time, even if they are well maintained.
Campground fees can be expensive at certain times of the year when they are most popular.
Internal RV temperatures can be hard to control when experiencing extreme weather conditions and will require air conditioners or heaters.
Privacy is nearly impossible if you live with other people.
Having just one nasty accident that wrecks the RV can lead you to being homeless until your insurance company honors their policy to help you purchase another.
Finding, Inspecting and Purchasing an RV to Live in Full time
Before making your RV purchase, explore your options. Do not go with the first RV you see that catches your attention. You can visit a couple dealerships and look a different RVs, or you can respond to public ads on sites such as Craigslist to purchase directly from their current owners. When beginning your search for the right RV to buy, educate yourself in the different types of motor homes.
Class A RV Motorhomes: These RVs look like buses with a big window in the front and a huge mini-house built onto the frame in the back. Class A motor homes have plenty of storage outside and most these days have several slide-outs to provide more room, too.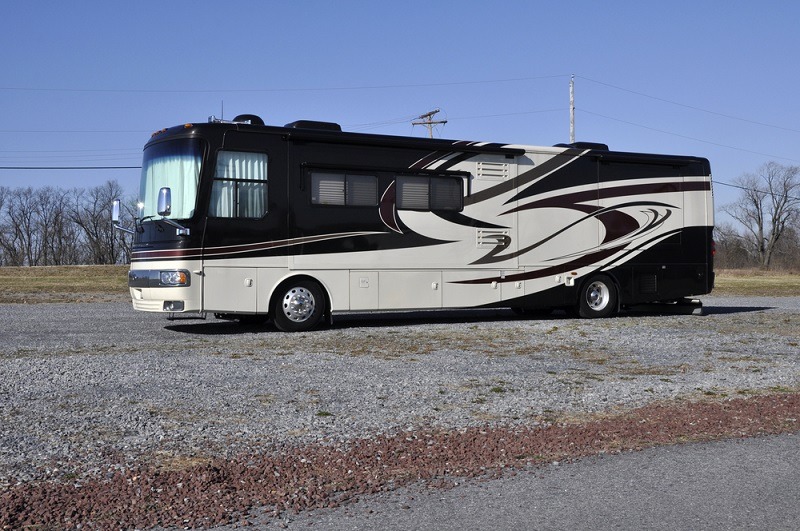 Class B RV Motorhomes: Class B RVs are referred to as camper conversions vans. These RVs have very minimal space for everyday living. They simply include a bed, sink, stove, and refrigerator and a bathroom in the rear, sometimes with a shower.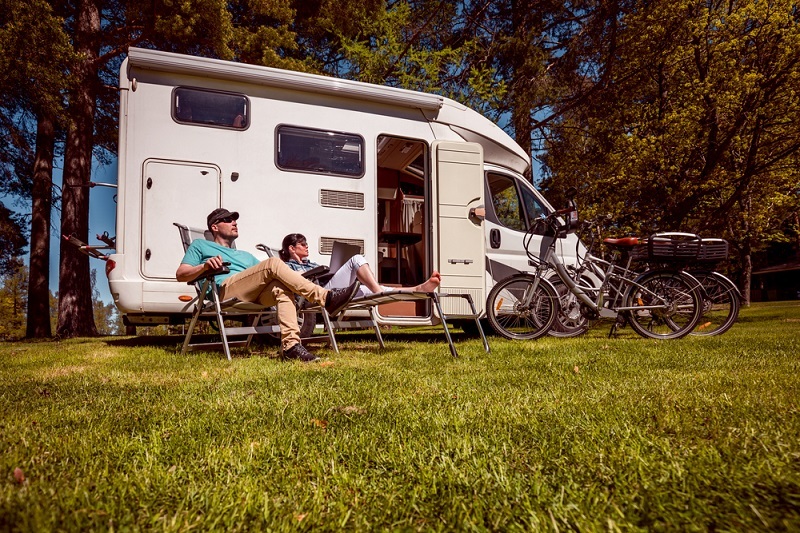 Class C RV Motorhomes: Class Cs are usually converted from a stock van or pickup truck with a large living space attached to the body of the vehicle. They are cheaper than Class As and more expensive than Class Bs. They offer a good balance of size, fuel economy and still have lots of storage compartments on the outside for holding mostly everything you'll need.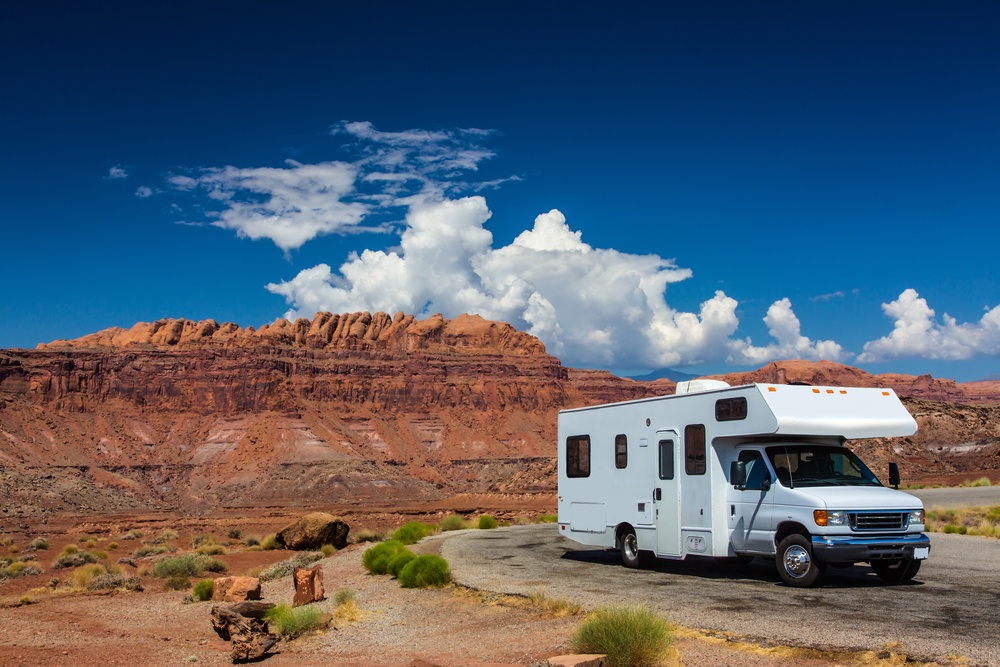 Camper Travel Trailer: This is a trailer you must haul with another vehicle such as an SUV or a pickup truck. The advantage of a trailer is that you have your vehicle to drive to other places. While you can tow a vehicle behind a large motorhome, this means you need two vehicles to be insured and also have to worry about maintaining two different vehicle engines, brake systems, etc. So having a second vehicle with a motorhome is more expensive than just having a camper trailer.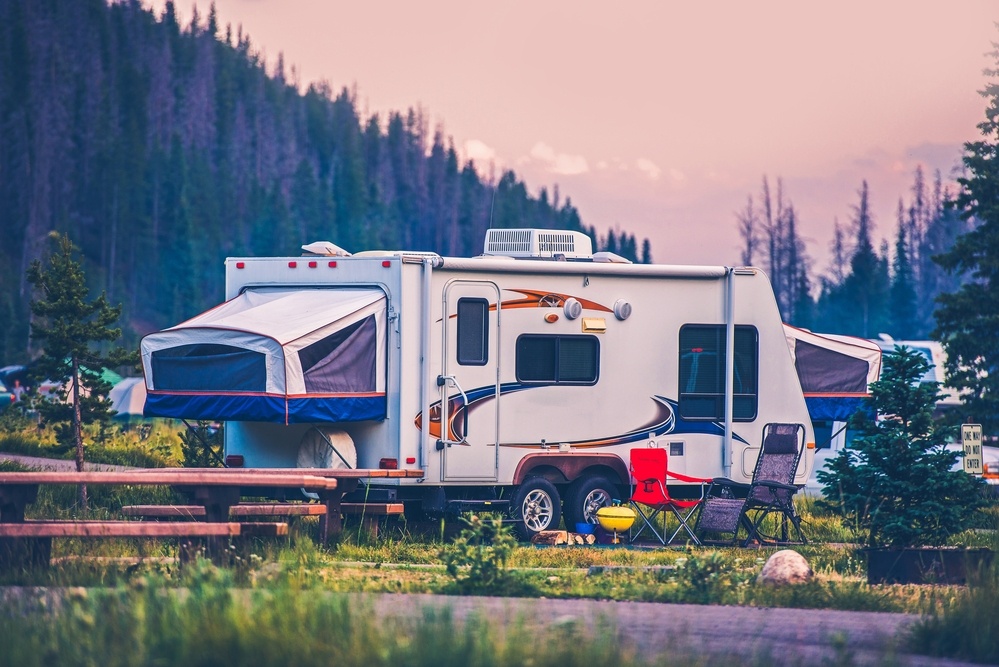 Fifth Wheel Travel Trailer: This is a very large travel trailer specifically designed to be towed by a fifth-wheel coupling normally seen on semi trucks and used by tractor trailers but that also come pre-installed on many pickup trucks these days. A fifth wheel trailer usually has a large amount of storage space and can even have special areas for storing motorcycles, buggies and other large equipment.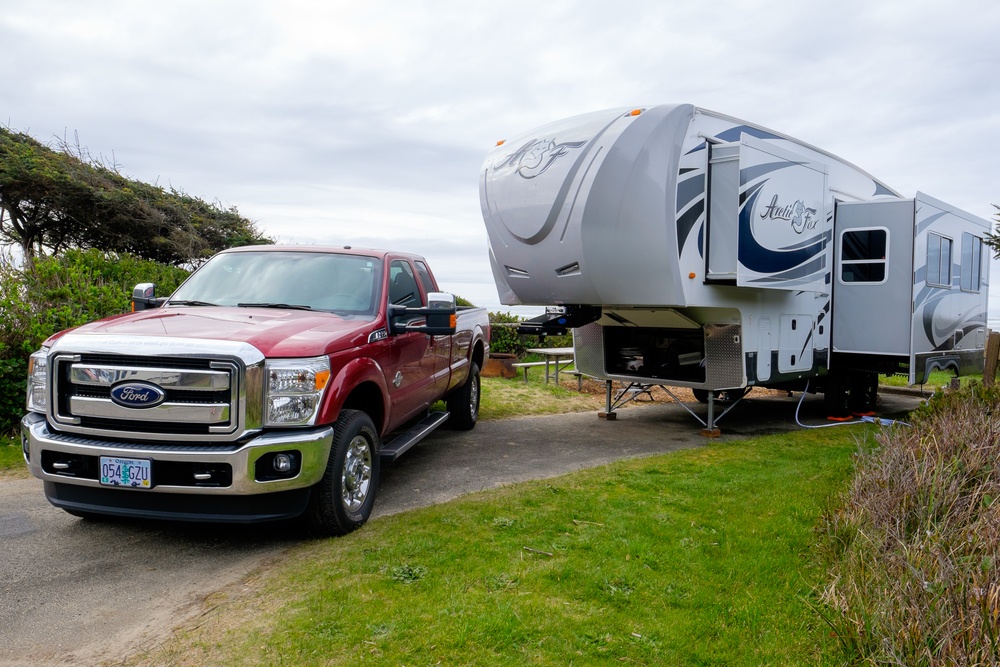 Van Conversion: Solo travelers and couples are often best benefited by having a van conversion to sleep in. While there is a lot less space and usually no plumbing inside the van, they do use the least amount of fuel compared to other options and it is easier to stealth camp / boondock in suburban areas, since the van can fit into normal sized parking spaces and doesn't look expressly like an RV. You can purchase an old work van with branding on it and park it by a neighborhood park for weeks on end, and nobody will think anything of it.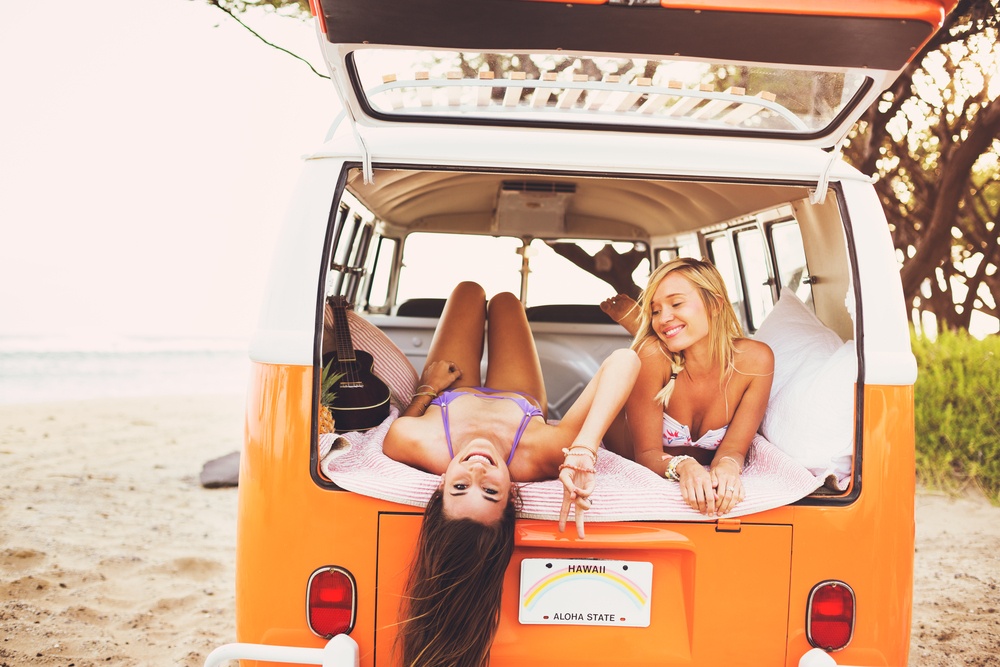 RV dealerships are a good idea when you want to get some free info and test out options to see what you like in an EV, but when it comes to making the purchase you will probably save some money purchasing from an individual owner rather than a dealership. The advantage to a dealership though is most dealership will not sell a lemon; any RV they take on is clean, well maintained and runs well. Purchasing directly from an owner will be cheaper but you'll need to do your own inspections to ensure everything is working well.
Regardless of whether you purchase from a dealer or an individual owner, when it's time to make the purchase do not buy the RV without testing absolutely every system, especially the electrical. If the individual owner doesn't have all of things on their property to test everything, you should schedule a time when you can go somewhere that you can test everything. Purchasing an RV without a proper inspection will often lead to you purchasing a lemon and you'll be stuck paying for expensive repairs.
Making Money on the Road While Living as a Full Time RVer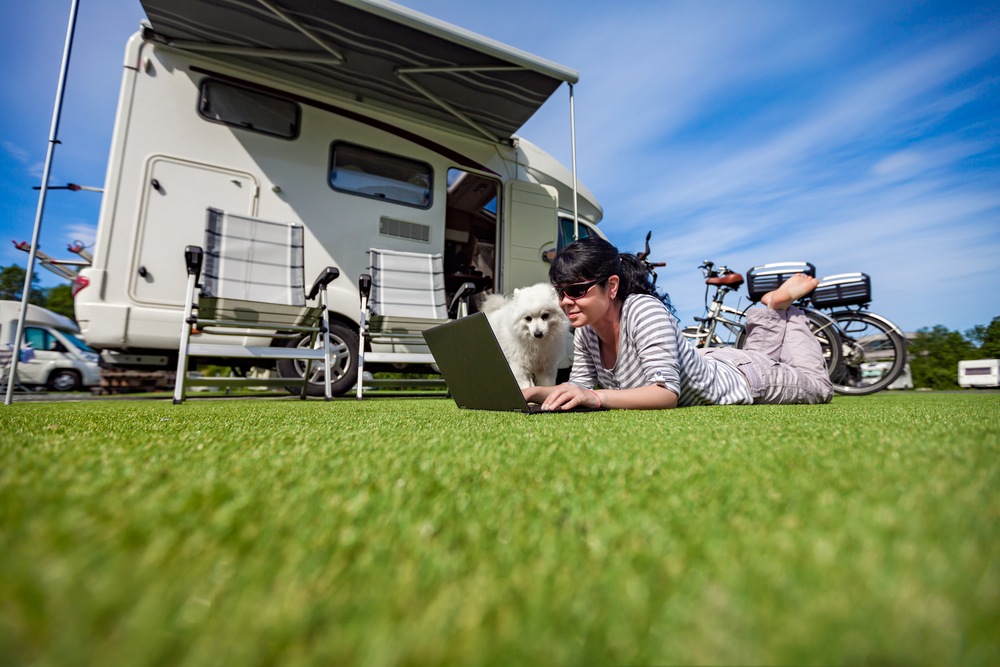 When you decide to become a full time RVer, aside from buying an RV another important issue is how to obtain and maintain a steady income while living on the road full time. Well, in my experience you will have three options, so make them count,
Get a Remote Job: With the popularity of technology growing everyday and changes to culture due to the Covid-19 epidemic, finding a remote job nowadays is much easier than it ever was before. What ever business you are in or industry you have experience in, almost all companies now offer remote job positions which pay very well.
Start Your Own Business: Many people living in an RV full time are learning the secrets to starting their own businesses and discovering their own potential for how successful they can be on their own. Starting a business of your own gives you the possibility to earn a decent income and the most personal freedom you could never have with any other job. You could start a blog, start a drop shipping business selling items, or you could become a freelance writer. If you're a computer engineer you can make apps and sell them. You could even be a freelancer who performs this work for others. The options are nearly endless.
Work Camp: This popular full time RVer option means that you work for campground owners as an office clerk or a site superintendent, in exchange for free lodging and some extra money. With this kind of job you may not make as much money (normally these positions provide free sites in the park you work at) but you could also possibly make around minimum wage.
Hopefully our guide helped you in your decision to become a full time RVer. It is a great lifestyle that is growing in popularity of millions everywhere. We highly recommend it here at RV Living Guide.