Living in an Airstream full time is the dream of so many road warriors interested in hitting the road for adventure. I've been doing it for the past year since I purchased my own Airstream last year in November 2019.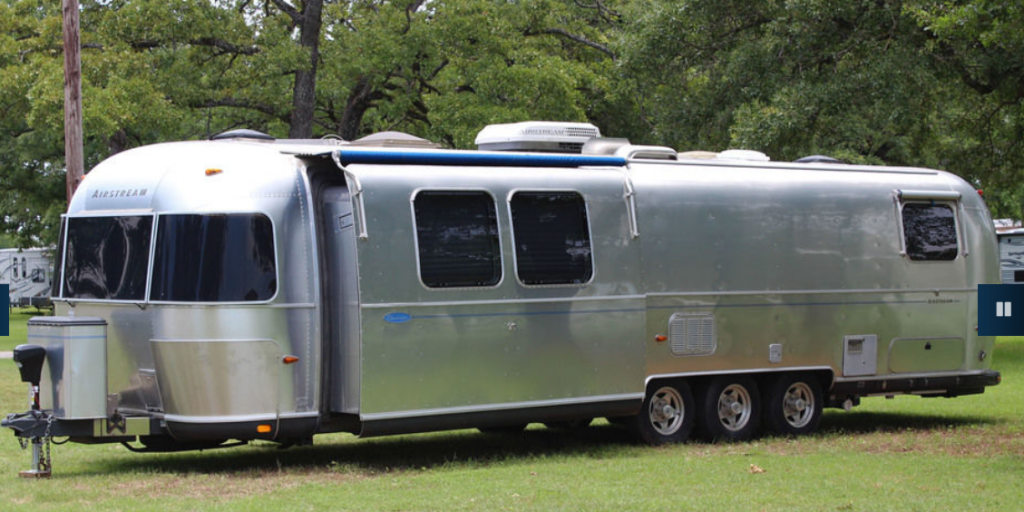 Yet, the lifestyle of an Airstream owner is filled with lots of twists and turns and is really only for those that are seriously dedicated to living life on the road and ready to cut the cord with many full time comforts at home. Living on the road in an Airstream allows you to see and do so many new things and experience living with less.
Use this guide to help you prepare for the pros and cons to living in an Airstream full time while traveling. 
Buy a Powerful Enough Truck to Tow An Airstream Travel Trailer With
Airstream travel trailers are heavier than other types of camper trailers due to the aircraft grade aluminum used to build them. While this means they don't have the type of cheap wooden frames that are as prone to rotting and Airstreams consequently retain value much better than other kinds of travel trailers, it does make them heavier. My Airstream is even one of the rare models with a slide out, that while expanding the living room does add more weight to it.
Most people who intend to live full time in a larger Airstream travel trailer should do as I have; purchase a dually truck with enough horsepower to pull this thing up mountains if need be. Personally I drive a 2007 Ford F350 Super Duty and I find that it fits my needs.
On this subject, make sure you have a backup camera on your truck. It will make connecting the tow tongue to the hitch much easier, especially if you are a solo vagabond like me.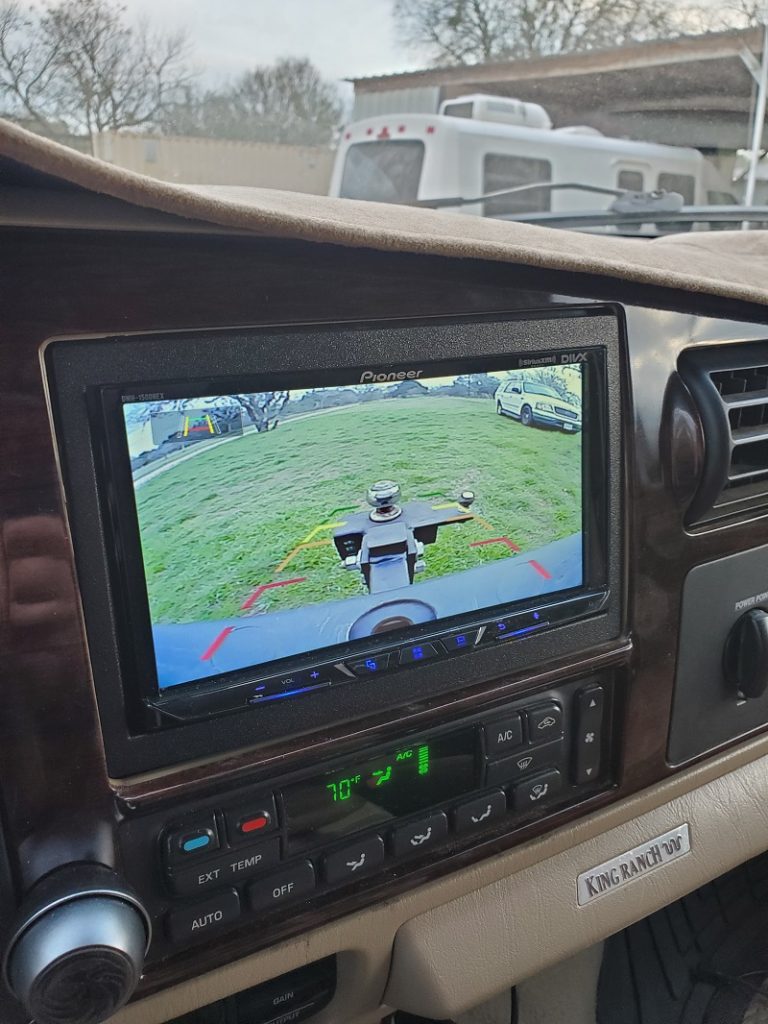 Expect to Need to Do Repairs While Living in an Airstream Travel Trailer Full Time
Like any new large purchase you should prepare room in your budget for repairs that might creep up. Like a vehicle, many parts of the Airstream will undergo wear and tear and might need repairs or replacing. The vehicle's actual structure is built sturdy and meant to be taken out on the road, but accidents happen, and everything from minor to major repairs are possible.
In addition to repairs related to the vehicle's structure traveling on the road, there are routine interior repairs that might also need repairing from time to time. Everything from the water pump to windows to door handles can break or need fixing. Before heading out on the road, take some time to familiarize yourself with the new space you'll be living in and give everything a try. Note those things that you think might be an issue and find a reliable source for replacement parts or repairs that you can turn to with issues while you are on the road.
Get Creative With Storage While Living in Your Airstream
Life on the road will require you to pack up all the things you will need to maintain a road lifestyle. This automatically forces anyone going full time in an Airstream travel trailer to cut down on their belongings and only pack what they absolutely need. The layout and reduced living space also require Airstream occupants to get creative with storage.
Airstreams are built with plenty of storage space, but much of it is tucked away or under existing features. This allows for a lot of items to be tucked away out of sight. Still, there are several ways to add additional storage to your space, but it requires you to get creative and perhaps even build custom pieces that will fit in with areas already in use (see the example with my bed in the next section below).
Before purchasing or bringing any new items into your Airstream, consider where that item will need to be placed. You should do the same with additional storage space; consider how it will function with those furnishings and items you already have and use in your Airstream.
One trick that I like to use to maximize my storage space is utilize rubber bands to hold small objects together. For example I take packages of seasonings, instant mashed potatoes, oatmeal packets, etc. etc out of their boxes and tie them together with a rubber band. This greatly reduces the amount of space these packets require, allowing for storing larger amounts of dry food in my Airstream traveler.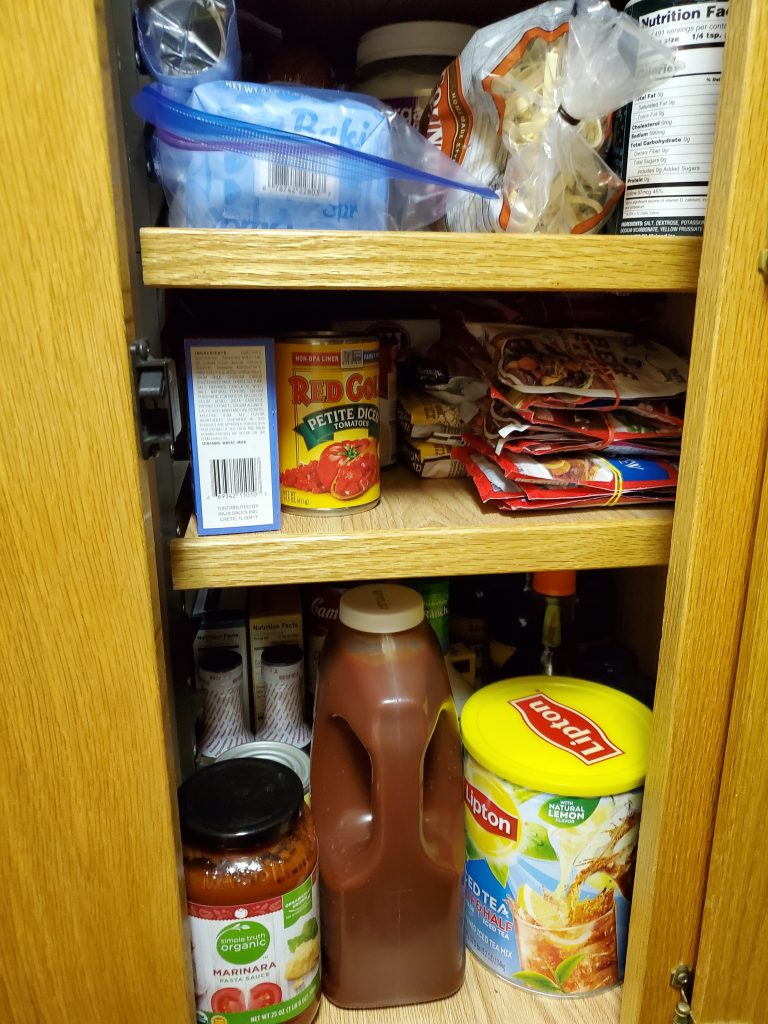 Upgrade Factory Stock Furniture and Other Heavy Usage Items
The furniture and materials used for furnishings in an Airstream are not meant to be used for daily living full time, but as furniture that you enjoy while camping for short periods. So you should spend the time to look at and consider the furniture you're going to be more comfortable regularly; and that will endure that regular usage by everyone traveling full time in the Airstream with you. While it may cost more, consider upgrading the standard furniture or replacing it with materials meant for heavy use.
Some of the basics to consider are the foam inserts that are in cushions. If you enjoy doing your own upholster then firm foam can be purchased to replace a thinner foam that is standard in cushions. I personally find it easier to just purchase better furniture. One of the things I have found very comfortable is my VITESSE Gaming Recliner Chair.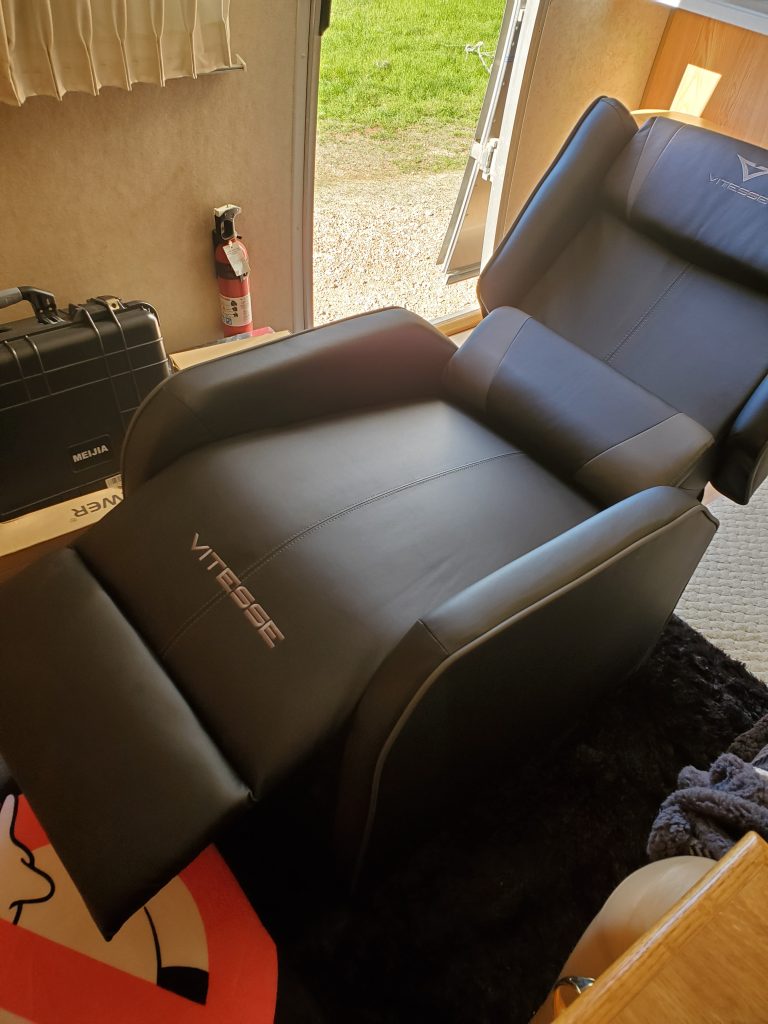 While I do play video games as a leisure activity, I primarily use this chair to watch TV and work on my laptop. The reason I purchased this type of recliner is because its small space fits well within my Airstream's living room. I didn't install the leg pegs that come with it, instead letting it sit directly on the carpet and never moves while traveling. I'm honestly surprised at the quality of this chair given its low price for a faux leather recliner. It is many times cheaper than traditional "RV furniture", which is exceptionally overpriced in my opinion. If you purchase any furniture labeled "RV" you'll just end up spending thousands of dollars more and the furniture will ultimately be no more comfortable than this gaming chair here is. I swear, some manufacturers add hundreds of dollars to the prices of onto products just by tacking the word 'RV' to it.
Of course with a nice recliner you also want to watch TV on it. Many older Airstream trailers come with older TV models that need upgrading for today's gaming systems. I upgraded with a Toshiba 32 inch HD TV into my Airstream, repurposing the original cabinet by having a brace mounted into the back of it.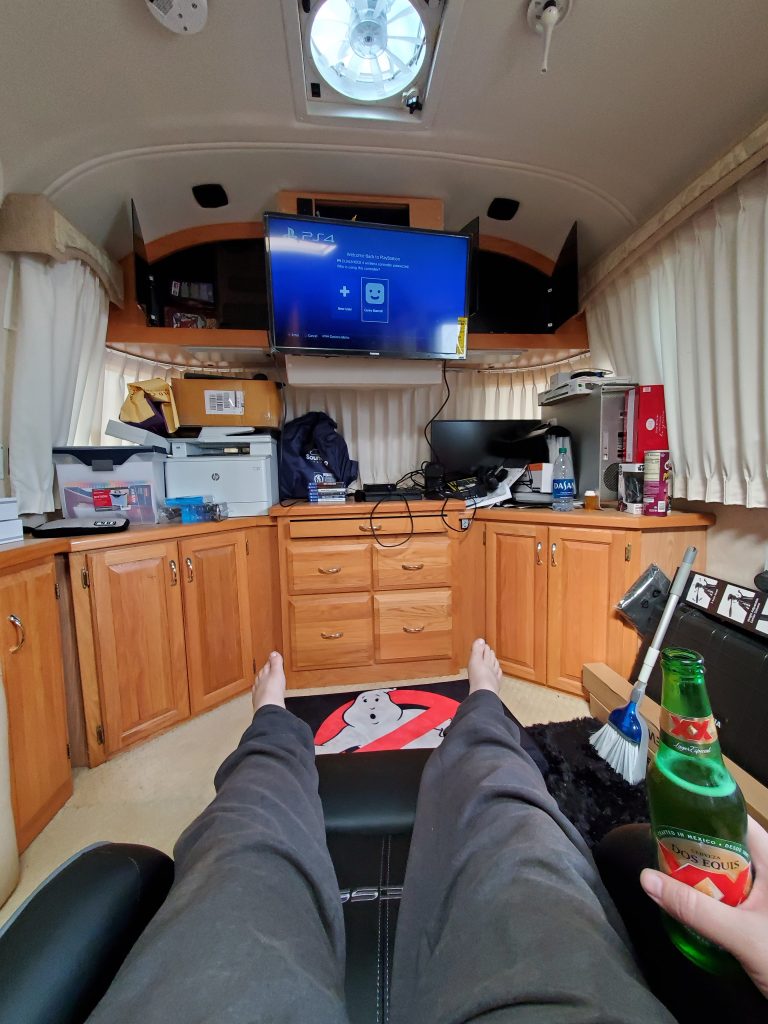 Now for your carpet…..flooring options that might not withstand constant traffic can be protected using mats or runners on the floors. I found this swag carpet runner by Unique Loom for the hallway between the kitchen and bedroom that works pretty well for me and matches my style.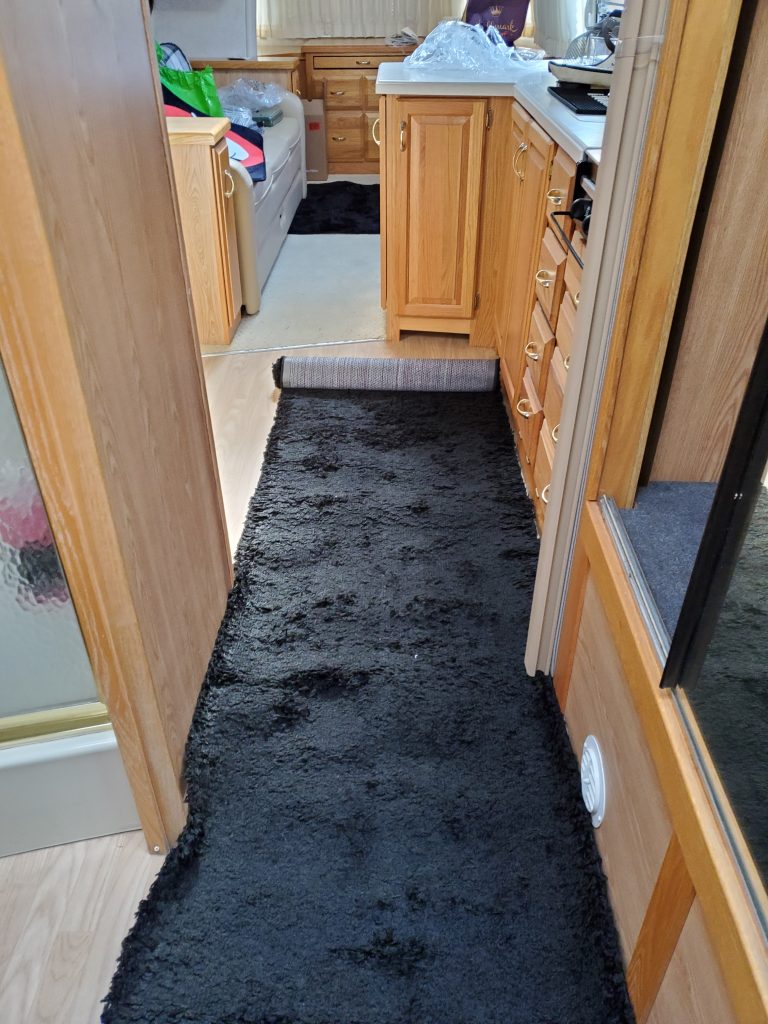 Fixtures and hardware that does not look sturdy can be swapped out with fixtures that will endure daily use better. These things might not appear to be a problem initially, but as time passes and the furniture becomes broken in, it will begin to grow uncomfortable or need replacing all together because it is no longer functioning.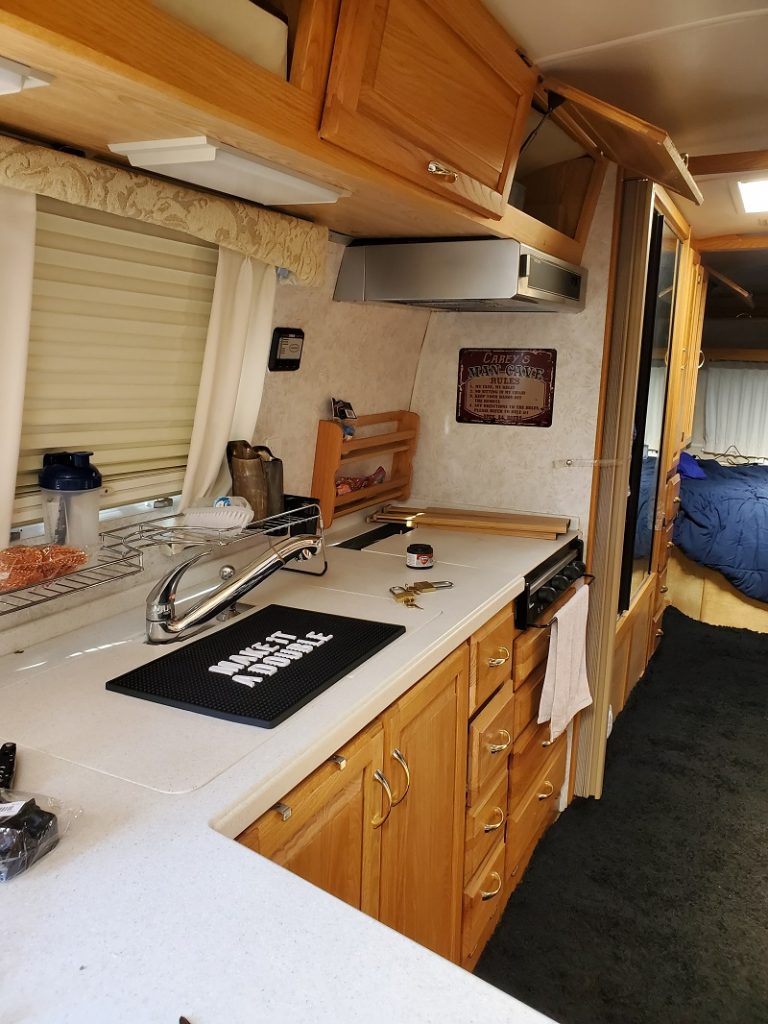 Another thing I recommend doing is upgrading the bed. Many Airstream trailers come with the same terrible bed frames and "RV mattresses" which are basically just large baby crib mattresses. Some of the bed designs are even pretty strange. As an example my 2004 Model 34 Lounge Classic Airstream Travel Trailer came with two single beds installed in the back.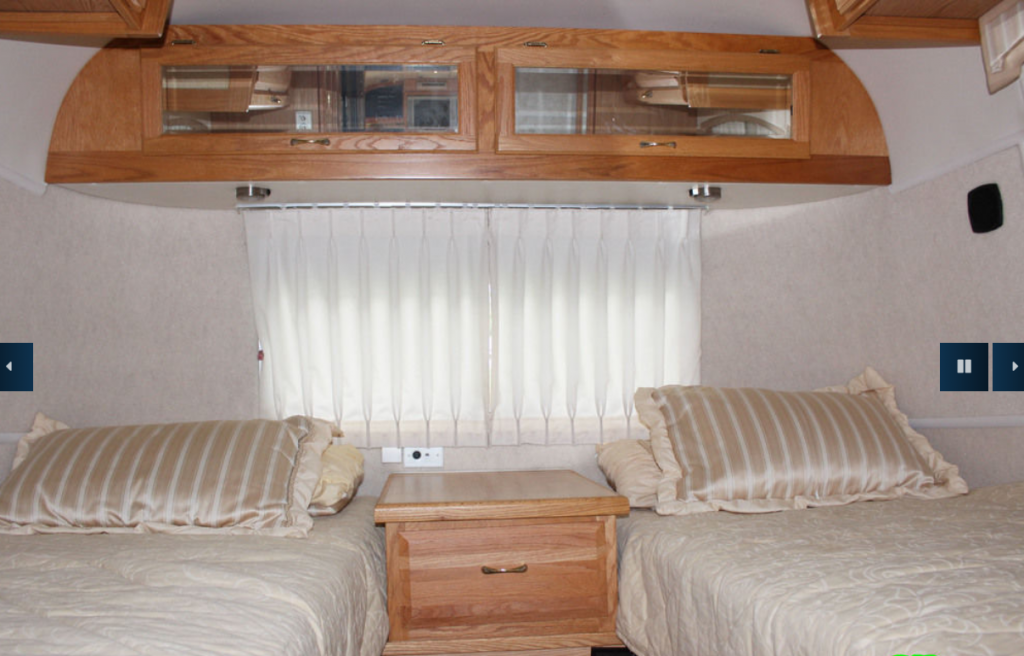 You can't see it in this photo but the mattresses were so small that my feet actually dangled off the end and would touch the wooden counter; and I'm pretty short for a guy! So one of the things I did was have these beds removed and replaced with a queen size bed frame.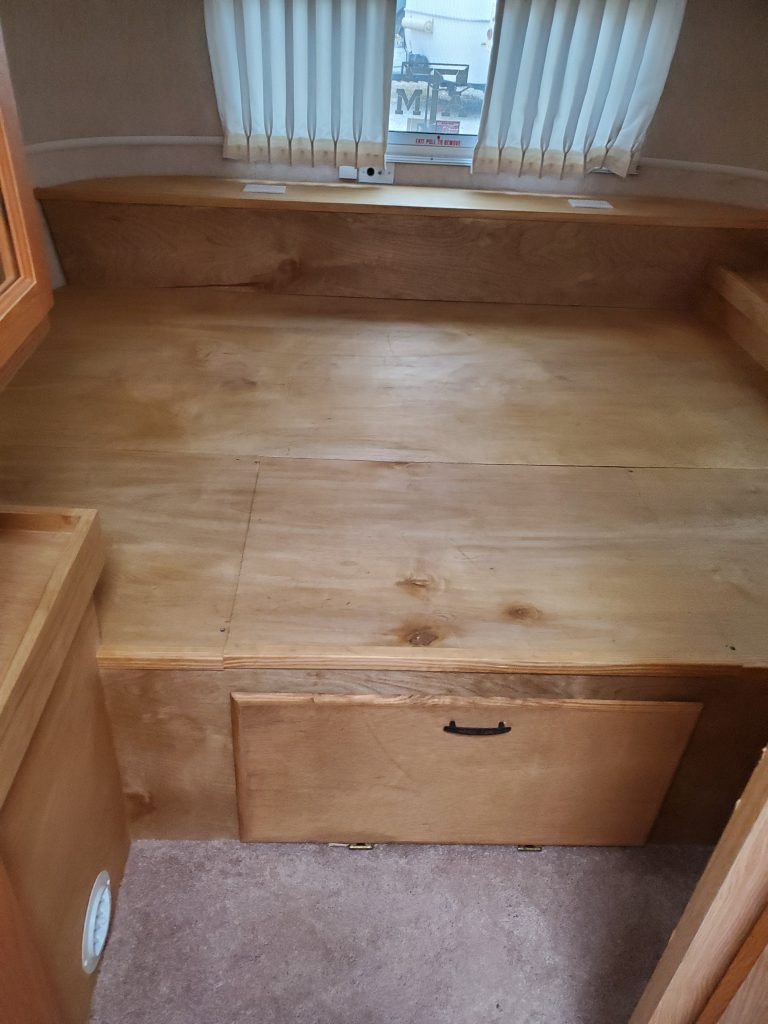 This is a far more effective usage of space living in an Airstream trailer as a single person (or with a partner). In addition to the frame of the bed housing additional storage space I was able to lay down a queen size bed memory foam mattress. I personally use a Tuft and Needle mattress as I believe they are the most comfortable mattresses ever made — and you want to be comfortable if you're living in a tight space such as an Airstream trailer all day. A comfortable bed is a huge luxury item.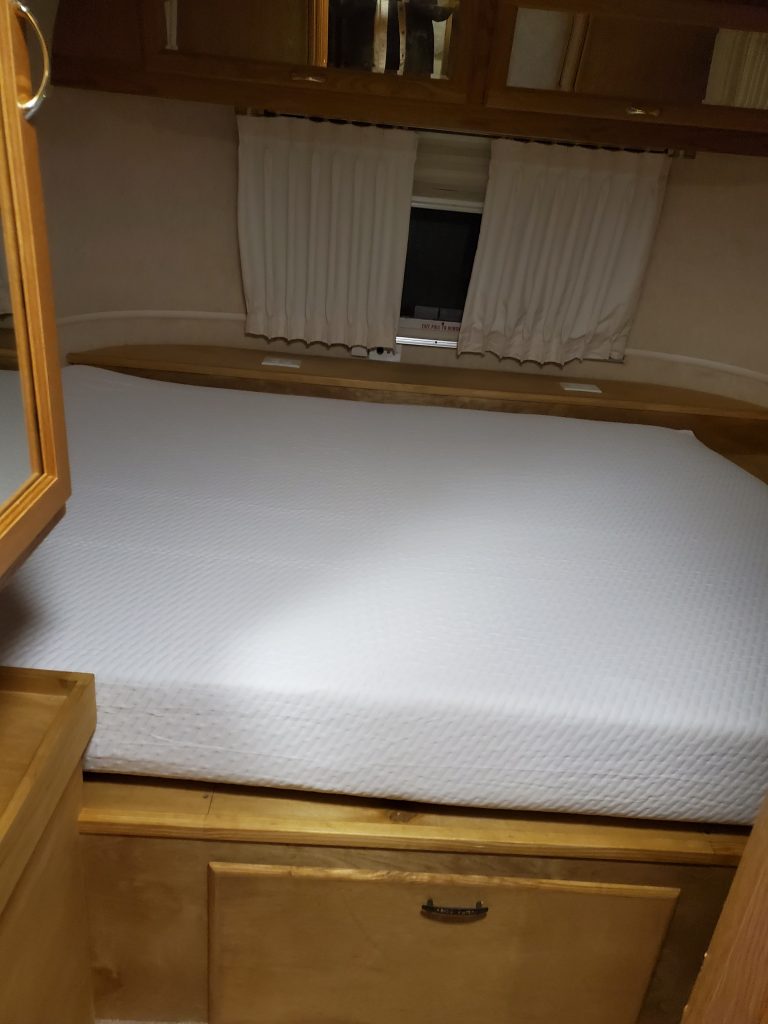 Just as an aside, I also use their memory foam pillows. TUFT & NEEDLE is a great brand of sleep products.
I am also recommending this Sleep Zone temperature regulator comforter because it is very affordable and will keep you snug at night without the material itself getting hot. I also recommend these HC Collection hotel style bed sheets. Quality bedding products are hard to find on Amazon and I had to do extensive research to locate these, and have been very happy with the purchases. I have personally been sleeping with this setup for nearly a year at this time of writing with no complaints. These products have given me many comfortable nights of peaceful dreaming.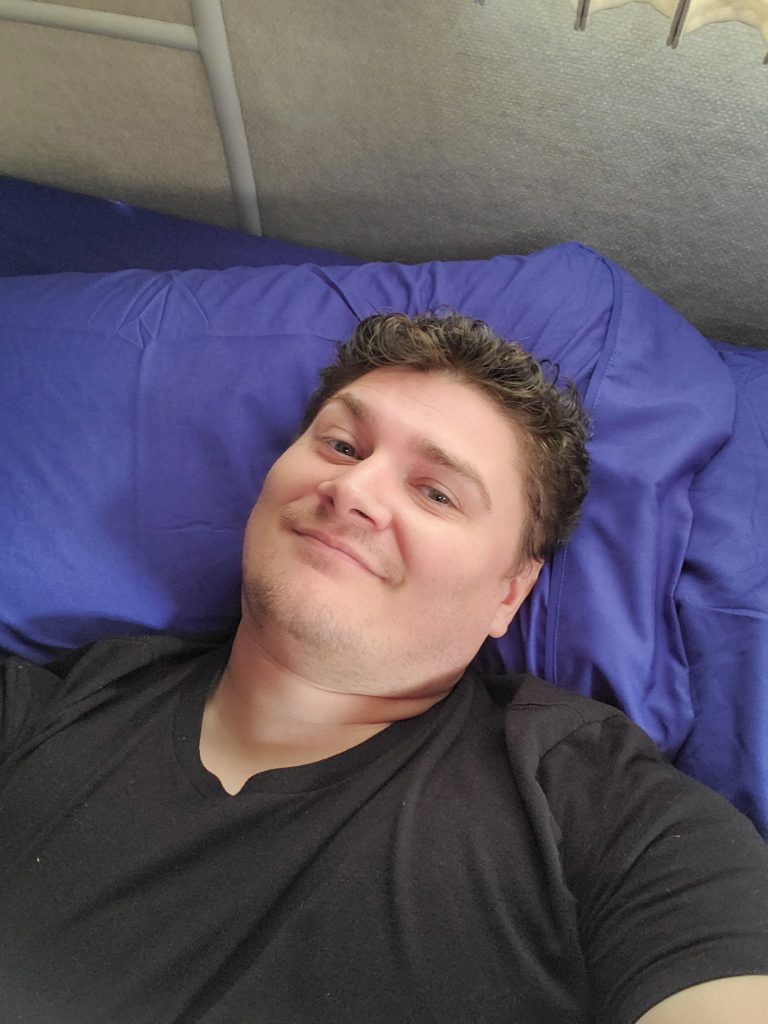 Think About Your Safety While Traveling Full Time in Your Airstream Travel Trailer
One of the last things most full timers forget or overlook is home safety issues now that they are living on the road, and their Airstream travel trailer is essentially their home. Just like you would secure and provide for your safety in a home, you need to do the same for life in an Airstream. Secure locks, secure windows, and the ability to secure attachments that you make to your home. Anything that you do to your Airstream to make it easier for you to access and gain entry is something you need to understand will make it easier for others to access and enter your home.
Take the time to examine those areas of your Airstream that are easy entry points and include money in the budget for securing these entry points. Remain vigilant while on the road while traveling, taking the time each night to secure your vehicles and all of your belongings.
Another thing you should consider is having a stockpile of first aid and other medical necessities. I have a medic bag special purpose built to deal with any kind of trauma, and another clear plastic organizer bag for additional supplies. This means I can easily access these items in the case of any emergency. As I live alone I want to be able to quickly access any medical supplies I might need in the event I am injured for some reason. I tend to throw the medic bag into my truck just in case I might need to access it during an accident. Let's say my five years in the Army reinforced the need to be prepared for any emergency, and I don't want to be that guy who wished he had something to solve a problem and not have it within arms' reach.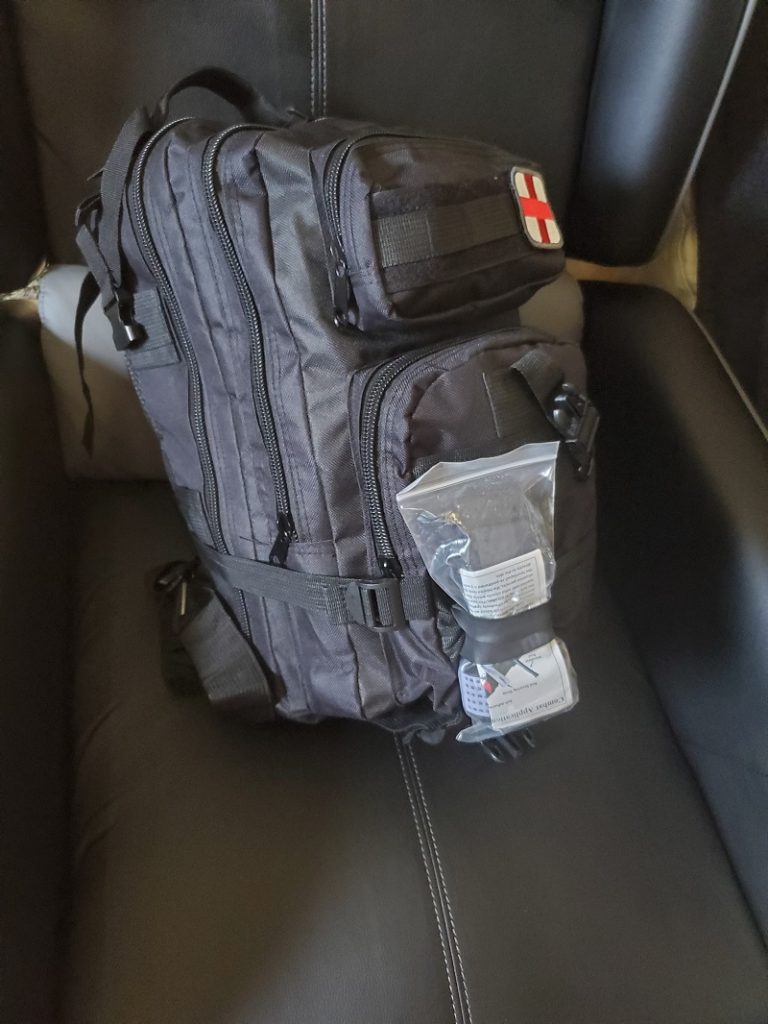 Lastly let's talk about personal protection. I carry firearms and have a concealed weapons permit issued by the state of Florida (recognized in most states). As ex-military I just don't think it's safe to travel without firearms in this day and age. There are situations where I have had people knock on my door late at night who had no business doing so and would not respond to inquires on what they wanted. Currently I am at a park where there are some….let's call them 'people of the rock', who roam around at night looking for mischief in dazed states and scream at imaginary people. I'm pretty sure none of them actually live here yet these kinds of people are often drawn to RV parks, for some reason.
I'm not saying this lifestyle is inherently dangerous, but you don't always have control over what kind of neighborhood you are in overnight. People do know that travelers (especially solo ones like myself) have a lot of expensive gear inside our trailers and trucks and that makes you a target to some people for burglary.
So I have firearms. I have an FN Five-Seven loaded with blue tips I keep at my bedside along with several hunting rifles, a shotgun, a 1911 and a Kimber 9M. I also have enough ammo to fight the Devil and win. Luckily, I stocked up long before the Covid crisis happened so I was never very worried about the world turning into an episode of The Walking Dead or something, and that's really the best benefit of having firearms; peace of mind. I know that between my food supplies, my medical supplies and my firearms that I am prepared for anything. I know that I can drive away to safety and bring my home with me. Not everyone can feel this kind of freedom all of the time as I do.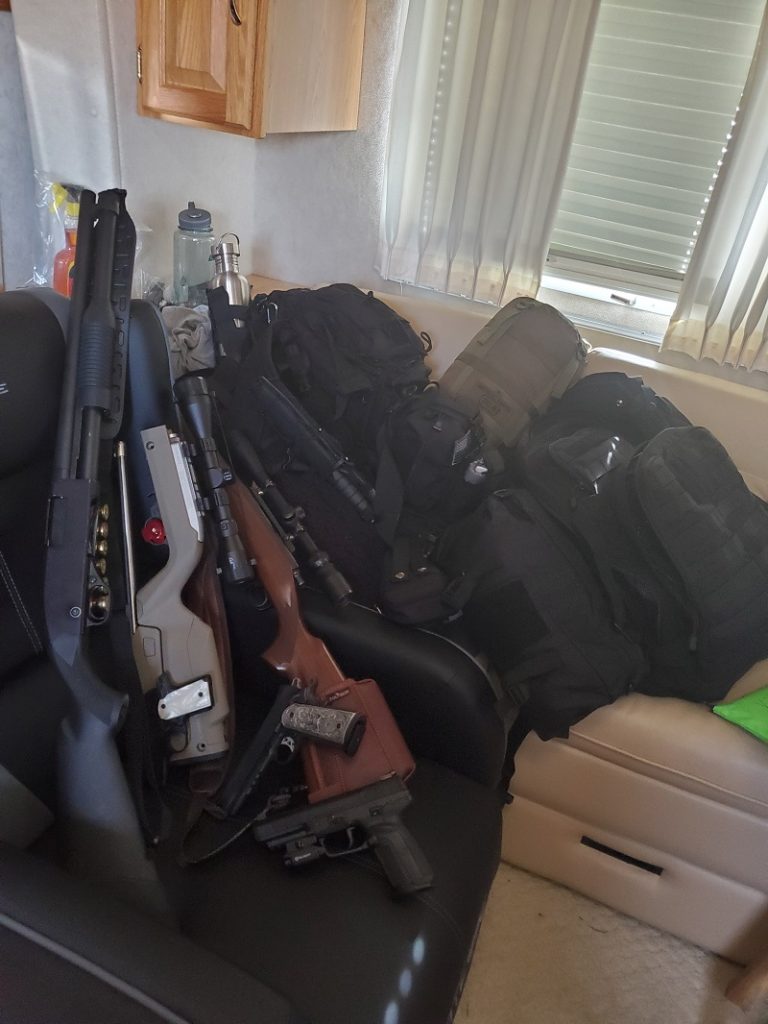 If need be, I even have a go bag setup I keep in case I need to abandon the Airstream for any reason and make a trek on foot. This event probably will never happen but it makes a good hunting pack, which is what I primarily use it for.
Now, you may not find it useful to invest into this kind of thing and that's totally cool (I understand many people won't be able to relate to what I am saying here unless they are ex-military). I'm not really a "prepper" type of person or associated with any kind of paramilitary group….it's just that, well given my background and experiences I like to be prepared for the worst things I can think of happening, and that's the takeaway here; think about your safety at all times and how to prepare for things you may have to deal with in the future. That's the only way to not be caught with your pants down.
Stay Organized In Your Airstream
In addition to getting creative with the way you store things, it is even more important that you adopt strict organizational skills. A small space like an Airstream requires that everything you own and keep in your full time road home has a home of its own. Additionally, as soon as you use something it is important that it be put right back up because discarded items pile up fast in small places.
I keep my kitchenware organized using these bamboo drawer organizers, that even have little blocks for my steal knives to sit in.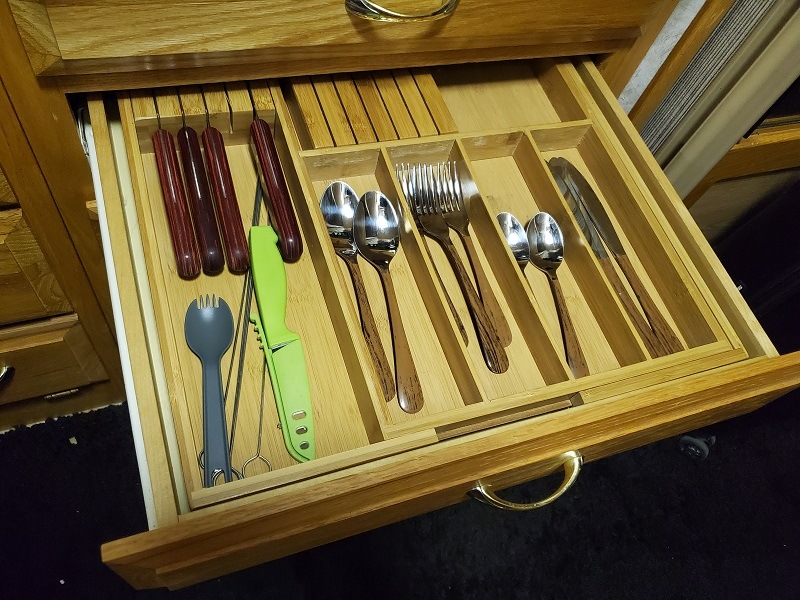 If you're living with multiple people then you can use lists and color codes to keep track of your home's items in different areas of your home. It can be easy to misplace or even forget what you have in a small space when everything is put away in small cabinets all the time. Make lists of everything that is in each space so that you know exactly where to look for a specific item when you need it.
Bump up the Power Capacity of Your Airstream Travel Trailer
One of the most common hardships or mistakes that most new full time Airstream occupants discover is the limits to electrical power. Going from a full size house, with all the electricity potential possible makes it hard to keep in mind how much energy you are using up at any one time. Take steps to alleviate this issue right from the start and increase your power capacity. Not only will this make life on the road more comfortable, but you might find that you absolutely need the additional power while you are out on the road. While you are unlikely to need to upgrade your house battery inverters with any Airstream produced over the past 20 years, older Airstreams will need an upgrade.
One thing you should definitely consider doing is installing an array of solar panels, a power controller, a good DC to AC inverter and a deep cycle battery bank into your Airstream travel trailer. Not only does this give you backup power for charging essential devices such as your laptops, phones and tablets but it will also allow you to boondock with your trailer overnight in between RV parks and camp sites and run power while you spend the night at a rest area.
It can also be a good idea to get a generator, as many Airstreams are no longer produced with generators installed. There are solar chargeable and gas powered generators available today that are small and convenient for packing into the storage compartment areas of an Airstream travel trailer.
Invest into Quick Tear Down and Set Up Items for your Campsite
When you are road tripping full time and staying in new campgrounds or parks every night of the week, it makes life more comfortable when you have easy set up items that also tear down quickly, such as yard chairs and collapsible tables.
Personally, while I have those items, I don't set up anything outside my travel trailer when I am staying long term in a crowded park, as I don't want my stuff to get messed with or stolen in the night. But many other full timers find that the outside of their home is an extension of their Airstream and carry items to create a comfortable outdoor living space that makes any parking spot feel like home.
I suggest that you look into adding a few items to your Airstream kit that will increase your comfort while on the road, but these items should be easy to put up and pull down because no one wants to add hours of labor to their set up time. At least I don't; I have more productive things to do with my day than screw around setting up tables and hanging tarps or flags that are just going to get torn up in the wind anyway. Your priorities may be different than mine.
Final Thoughts on Living Full Time in an Airstream
Living in an Airstream full time can be one of the most exciting adventures of your life, but being fully prepared for all the pros and cons means you'll enjoy the journey even more.